Frequency band-pass filters
Frequency band-pass filters are designed for spectral selection of incident radiation. Such filters in the band-pass mode pass waves in the surroundings of the set frequency with the transmission coefficient close to 1 and fully reflect or disperse the radiation outside the pass band. Electrodynamic optimization and the unique structure of the designed band-pass filters provide the high contrast of the frequency filtration with the low level of parasitic high-frequency harmonics leak. To maximise the radiation blocking outside the required selection band it is possible to use two filters successively; meanwhile the transmission value in the selection band area decreases insignificantly.
In addition to band-pass filters for a fixed wavelength it is possible to design and produce filters for selection of several wavelengths spaced apart in the spectrum as well as band-stop filters. The latter provide deep suppresion of radiation at the set frequency (as the result of reflection resonance) at a high level of side frequency transmission.
All optical elements are produced on the basis of multi-layered frequency-selective surfaces - thin planar metal-coated microstructures with cells of special geometric shape, the topology of which defines the frequency properties of the element. Frequency-selective surfaces are resonant electrodynamic structures operated in the mode, in which the resonance frequency is below the point of excitation of high-order diffraction harmonics. This approach allows to create optical elements with unique properties unachievable or hard-hitting within the frames of traditional optics.
We can produce filters with properties required for solution of our client specific task. Filter properties can be optimised for use in various applications including space studies and studies in cryogenic conditions.
A black aluminium casing with protective coating is supplied together with the filter.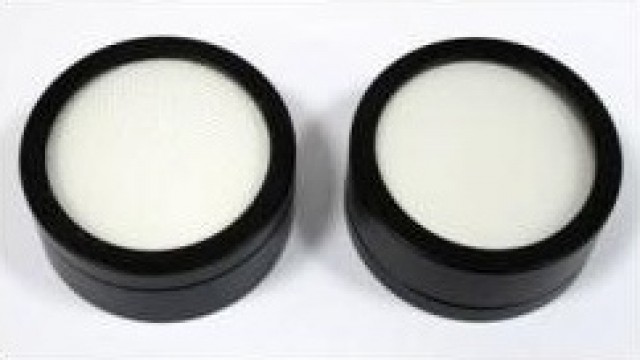 Description
Options
Application
Standart
| | |
| --- | --- |
| Selection band center frequency | 0.05 to 3 THz |
| Filtration fractional bandwidth (FWHM) | 9 to 30% |
| Maximum transmission (at the center frequency) | 80 to 97% |
| Suppression outside the pass band | 30 to 45 dB |
| Cross-polarization level | below -35 dB |
| Radial aperture diameter | 25 to 70 mm |
| Possibility of work in cryogenic conditions | Yes |
| Possibility of use in vacuum conditions | Yes |
Special filter holders including a holder for simultaneous use of two filters

Use of several selection bands on one filter

Polarization discrimination option

Special filter treatment for use in cryogenic conditions

Special filter treatment for use in vacuum conditions
Optical element as a part of quasi-optical systems for spectral analysis and monitoring of broad-band source emission dedicated to improve the radiation monochromatization

Suppression of undesirable flash exposure of radiation THz detectors by off-band spectral background
Filter number
Selection band center frequency
Maximum transmission
Selection fractional bandwidth
Transmission outside center frequency
1
0.075
0.95
0.15
<= 10

-4

2
0.094
0.95
0.15
<= 10

-4

3
0.100
0.95
0.15
<= 10

-4

4
0.140
0.94
0.15
<= 10

-4

5
0.140
0.94
0.20
<= 2*10

-4

6
0.150
0.94
0.20
<= 2*10

-4

7
0.190
0.94
0.20
<= 2*10

-4

8
0.220
0.94
0.15
<= 2*10

-4

9
0.220
0.94
0.20
<= 2*10

-4

10
0.260
0.93
0.20
<= 3*10

-4

11
0.300
0.92
0.20
<= 3*10

-4

12
0.350
0.91
0.15
<= 4*10

-4

13
0.350
0.92
0.20
<= 4*10

-4

14
0.480
0.92
0.20
<= 5*10

-4

15
0.500
0.92
0.20
<= 5*10

-4

16
0.600
0.92
0.20
<= 5*10

-4

17
0.650
0.90
0.15
<= 5*10

-4

18
0.650
0.92
0.20
<= 5*10

-4

19
0.800
0.90
0.15
<= 6*10

-4

20
0.800
0.92
0.20
<= 6*10

-4

21
1.000
0.90
0.15
<= 8*10

-4

22
1.000
0.91
0.20
<= 1*10

-3

23
1.300
0.89
0.15
<= 1*10

-3

24
1.300
0.91
0.20
<= 3*10

-3

25
1.600
0.89
0.15
<= 1*10

-3

26
1.600
0.91
0.20
<= 3*10

-3

27
1.900
0.88
0.15
<= 3*10

-3

28
2.400
0.88
0.15
<= 4*10

-3

29
3.000
0.88
0.15
<= 5*10

-3